MAP OF CREATIVITY ON THE ISLE OF SHEPPEY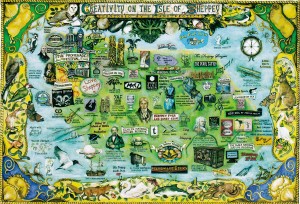 Proudly, we display our Sheppey Map of Creativity in the Cottage Front Room.  Commissioned by Nicole Mollet of Island Projects, this beautiful hand-painted art work was created specially for us by Victoria McBride, an artist who comes from a local family of sign-writers and painters. Unveiled at our opening ceremony at Sheppey Promenade 2015, it celebrates the wealth of creative talent we have in this small island community.
We have produced limited edition prints of the map which are for sale in the Cottage.  All money goes towards our running costs administered by Sheppey Promenade, a not-for-profit charity.
Contact Victoria McBride Email: sheppeydragon@yahoo.com
Contact Island Projects: https://www.facebook.com/islandprojects/ for details