Rose Street Cottage and its two neighbouring properties are the only remaining homes of a number that were built for Sheerness Dockyard workers in the 18th and 19th centuries – often using timber "Chips" from the docks. They are weather boarded, roofed with Welsh slate and are Grade II listed.
One-time home to the Kicks shipwright family, the Cottage  has been a furniture shop and Curd's Wet and Dry Fish'n'Chip shop.  It is dressed with objects brought by locals over many years to evoke the Island's quirky stories.
When you come into this intimate and intriguing space, you will experience vibrant Arts events and workshops in a cottage atmosphere and enjoy changing monthly Gallery exhibitions.
On sunny Saturdays, you can treat yourself (and friend) to a delicious cream tea in our Cottage Garden.  We feel your visit will conjure some vivid memories and you will leave having absorbed something of Sheppey's rich history.
We are a Wheels of Time and Kent Children's University registered attraction. (See News on this website for some background on Kent Children's University)
For full details on Kent Children's University visit:
http://www.kentchildrensuniversity.co.uk/cukent/home/
---
Wheels of Time
Wheels of Time 2021 has new sites for your children to visit from 1st April 2021.  PLEASE NOTE: We hope to re-open after Lockdown by Appointment only.  Please call 07775 712306 to arrange a visit. We are keeping the safety of our volunteers and visitors uppermost in this.
For details on Wheels of Time, visit Facebook: https://www.facebook.com/WheelsOfTime/
or Website https://uk/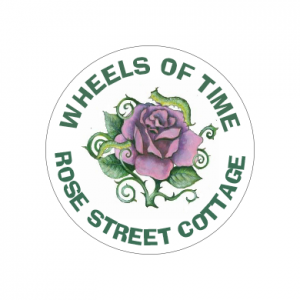 ---
IMPORTANT MESSAGE – posted on 25 June 2021 – sent to all winners but just in case you haven't received the message
Dear Big Weekend Winners
Thank you for choosing Rose Street Cottage of Curiosities. As you will be aware, the Covid restrictions for places of hospitality were not lifted as originally planned on 21 June, so it is with a heavy heart that we must postpone our Big Weekend activities. The cottage is tiny (but lovely) and we would struggle to get everyone in, even using timed slots of just 30 minutes and sticking to the rule of 6.
We are therefore offering alternate dates of 24, 31 July  and  7 August. Please e-mail me with your preference so I can let our volunteers know you are coming for a free visit to the cottage.
Or we can take private parties round on any week day during lockdown. If you want to book a free private viewing, please ring Chris on 07775 712306 to arrange
I am really sorry to disappoint you, but hope these alternatives are satisfactory. Should Covid restrictions be further extended, I will contact you again.
I am also sorry for the short notice, but as we had chosen the first weekend of The Big Weekend, we only got the winners list from the website this week so couldn't let you know sooner.
I hope to see you on one of the days we are open after lockdown.
Regards
Janys Thornton