Rose Street Cottage and its two neighbouring properties are the only remaining homes of a number that were built for Sheerness Dockyard workers in the 18th and 19th centuries – often using timber "Chips" from the docks. They are weather boarded, roofed with Welsh slate and are Grade II listed.
One-time home to the Kicks shipwright family, the Cottage  has been a furniture shop and Curd's Wet and Dry Fish'n'Chip shop.  It is dressed with objects brought by locals over many years to evoke the Island's quirky stories.
When you come into this intimate and intriguing space, you will experience vibrant Arts events and workshops in a cottage atmosphere and enjoy changing monthly Gallery exhibitions.
On Saturdays, you can treat yourself (and friend) to a delicious cream tea in our Cottage Garden.  We feel your visit will conjure some vivid memories and you will leave having absorbed something of Sheppey's rich history.
Stop Press: By popular demand, Father Christmas is visiting us again this December!  See Events for details.
Wheels of Time
Another Cottage first!  We welcomed two young Wheels of Time history lovers to the Cottage to collect their top Award for following 'Roamin' Rex around Kent and collecting all 25 badges.  The Mayor and Mayoress of Swale made the presentation in October.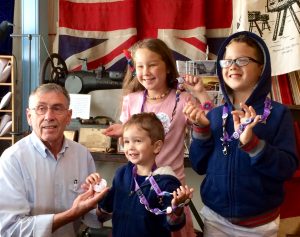 We are very happy to have presented Bronze Awards to three young collectors at the Cottage in September.  We are delighted that our little museum is their favourite!
We joined up to #WheelsofTime scheme in April 2017.  Kids aged 5-11 collect a badge at each Attraction visited to build the set.  Please NOTE: If your child is planning to collect all the Wheels of Time Badges for 2017.  We will be closing for the winter from 24th December to March 2018 inclusive.  We will open for the Spring season for Kent Big Weekend Saturday 24th and Sunday 25th March 2018.
For details, visit Facebook: https://www.facebook.com/WheelsOfTime/
Website https://uk/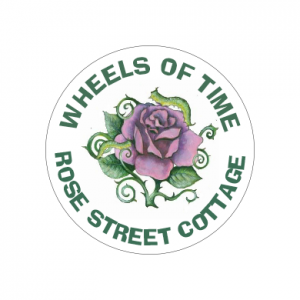 Kent Children's University
We are an approved "Public Learning Destination" for Kent Children's Universitytm as a #WheelsofTime participating organisation.  This means that we're authorised to issue Learning Credits in participating children's Passports to Learning.
We are so proud of this partnership as the Validation process shows that our methods for inspiring and supporting children and young people's learning meets with the Quality Assurance process of National Children's Universitytm Trust.
Participating children can follow our History Trail quiz and collect their #Wheels of Time badge to earn 2 Learning Credits in their Learning Passport.
For further details on KCU, see our News page or visit:
or email kcu@kent.gov.uk
Like Kent Children's University on Facebook ( ) or follow them on Twitter (@K_C_U)