Rose Street Cottage and its two neighbouring properties are the only remaining homes of a number that were built for Sheerness Dockyard workers in the 18th and 19th centuries – often using timber "Chips" from the docks. They are weather boarded, roofed with Welsh slate and are Grade II listed.
One-time home to the Kicks shipwright family, the Cottage  has been a furniture shop and Curd's Wet and Dry Fish'n'Chip shop.  It is dressed with objects brought by locals over many years to evoke the Island's quirky stories.
When you come into this intimate and intriguing space, you will experience vibrant Arts events and workshops in a cottage atmosphere and enjoy changing monthly Gallery exhibitions.
On Saturdays, you can treat yourself (and friend) to a delicious cream tea in our Cottage Garden.  We feel your visit will conjure some vivid memories and you will leave having absorbed something of Sheppey's rich history.
We are a Wheels of Time and Kent Children's University registered attraction.
 Wheels of Time
Good news!  There will be 33 sites for your children to visit for Wheels of Time 2018!   Wheels of Time 2018 is holding a launch event on 16th March.   Follow Roamin'Rex to Sittingbourne Forum and find out what he has in store in 2018.
Please NOTE: If your child is planning to collect all the Wheels of Time Badges for 2017.  We are closed for the winter March 2018 inclusive.  We will open for the Spring season for Kent Big Weekend Saturday 24th and Sunday 25th March 2018.
For details on Wheels of Time, visit Facebook: https://www.facebook.com/WheelsOfTime/
or Website https://uk/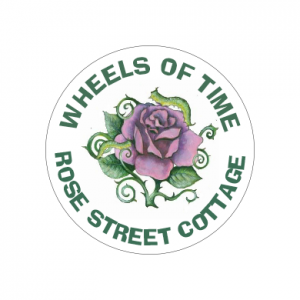 ---
Sheppey Promenade 2018
Promenade 2018, a year long Arts and Heritage festival for the Island will be launched at the Cottage on Kent Big Weekend Sat/Sun 24th/25th March, starting with a month long exhibition.
The theme this year is "Women in WW1" and we invite individuals and groups with an interest in taking part in the festival to an Open meeting on Sat 1st March at 7.30 pm to Blue Town Heritage Centre & Criterion Cinema.  Please call Chris Reed on 07775 712306 for details.