May Exhibition: Sheppey in WW1
Exhibition telling the story of Sheppey which was known as "Barbed Wire Island" during WW1.  It was ringed by trenches and wire because of it's strategic and vulnerable position.  Stories of Sheppey people both at the Front and at home on the Island.

Included in the exhibition are photographs by Sheppey Photographer Lilian Mason.
---
---
PLEASE NOTE: Unfortunately, we have had to cancel the following Writer's workshops due to lack of bookings.  The Writer's Group will however be holding "Readings in a Country Church" during Promenade week on 24th July as billed.
Tues May 15th & Thur May 17th 7pm – 9 pm
FREE Writing Workshops run by Sheppey Writer's Group at the Cottage £2 suggested donation for the evening, including refreshments

Sheppey Writer's Group are holding 2 workshops: The first is a Short Story Writing workshop on 15th May, the second is a Poetry Writing one on 17th May.  The theme links to Sheppey Promenade's theme of Women in WW1, in particular on Sheppey.
The publishing arm of the Writer's Group will be compiling all poems and stories on this theme together into an anthology to be published in 2019.  Come to the workshops or contact them find out more and to begin writing.
To book a place, call 01795 660853 or click: http://promenade.taup.uk
then click Contact Us on the required workshop.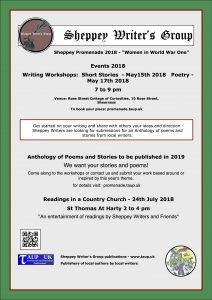 The Writer's Group will also be holding Readings in a Country Church at St Thomas the Apostle  church at Harty on Sheppey as part of Promenade festival on 24th July from 2 pm to 4 pm,  Click link below for map:
https://goo.gl/maps/cEyV1QH8QCM2
---
FREE Costume & Banner-making Workshops for Sheppey Promenade Equality Parade at the Cottage, £2 suggested donation for the session, including refreshments
Sat 12th & Sat 26th May 11 am – 2 pm
Tues 15th, 22nd & 29th May 11 am – 2 pm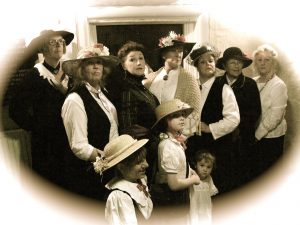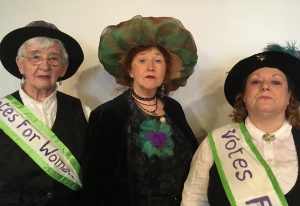 Come and create your own costume, banner and/or badge/sash to wear in our Sheppey Promenade 2018 Equality Parade.  Costumes can be historical, reflecting Women in WW1 eg Suffagette, VAD nurse or Canary girl.  Or to reflect something that you seek Equality for now. eg #WASPI
Please call Chris Reed on 07775 712306 to book.
---
Wed May 16th – FREE Costumed Sketching evening at the Cottage at 7 pm £2  suggested donation for the evening, including refreshments
Big Fish Arts will be dressed in WW1 period costume for you to come along and do some sketching or take photographs.  Open to all ages and levels, come and have a go!  Please call Chris Reed on 07775 712306 to book as places are limited.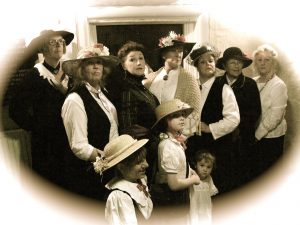 ---
Saturday June 23rd Suffragette Tea at the Cottage 11 am – 3 pm
There will be cream teas available at the Rose Street Cottage served by costumed characters who will tell you about Suffragettes on the Isle of Sheppey. Cream teas are £3.
https://equaliteas.org.uk/event/suffragette-tea/
---
Saturday 21st Jul – Sunday 29th Jul Sheppey Promenade Week
Saturday 28th Jul: Sheppey Promenade Equality Parade

Sheppey Promenade Festival highlight is the Equality Parade through Sheerness High St on the theme of the Suffrage movement and its relevance to us today. Our aim is to celebrate the progress that women have made in the last 100 years and highlight issues still to be fought for. 

Costume & hat workshops will be held in May & June where materials will be provided so Paraders can make their own costume.

The Parade is open to all, individual men, women, boys & girls as well as organisations. Some will be wearing costume e.g. long skirts and big hats with sashes in the Suffragette colours of purple, white and green.   Alternatively come along in your everyday clothing with or without banners or flags demonstrating your particular concerns, for instance the #METOO campaign, you will be equally welcome. 
Sheppey Promenade Week runs from 21st to 29th July, so look out for other events which will run during that week and be added to events as dates/times are confirmed.
Contact Chris Reed on 07775 712306 for further details.
We thank Heritage Lottery Fund for their support for this year-long project.
---